TUBE FLY VICE
The HMH Tube Fly Tool
with 4 free sample Needle Tubes
The photograph above shows the HMH Tube Fly Adapter fitted to a standard Regal fly tying vice and holding a 35mm long stainless steel Needle Tube, diameter 1.5mm, ready to be dressed.
The HMH Tube Fly Tool from Grays of Kilsyth is supplied with two pins, a selection of plastic tubes and a sample pack of 4 Grays Needle Tubes (two of each diameter), as shown below.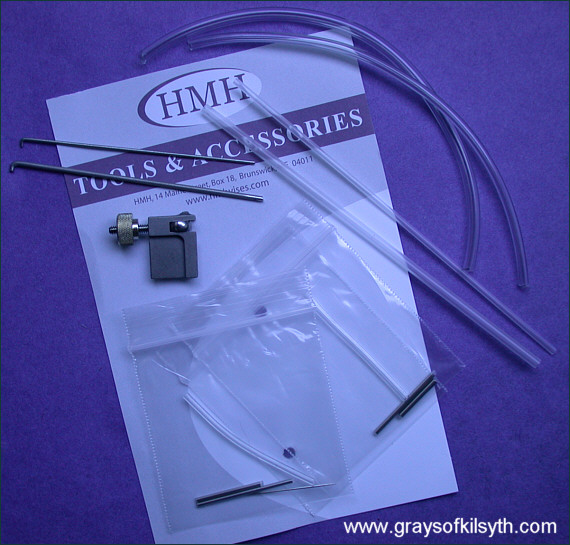 £39.99

HMH Tube Fly Tool to our online fly shop .

This Tube Fly Tool (or Starter Tube Tool, as HMH modestly call it) is an inexpensive, yet extremely practical and versatile tool which may be easily and quickly fitted to any standard fly tying vice head, allowing the fly tyer to hold a range of tubes securely for dressing a wide variety of tube flies. It is well suited to holding Grays Needle Tubes in lengths from 15mm upwards, as shown below (10mm needle tubes can also be held or may be secured with the aid of a pin or needle). In addition, the adaptor will hold conventional fly tying tubes or any of the growing number of new tube styles now widely available to the fly tyer.
Using the HMH Tube Fly Tool
The HMH tube fly tool will hold a wide range of tubes. Metal tubes may be clamped very simply and securely in the tube tool. The photograph below shows a 35mm long Needle Tube (external diameter 1.5mm) clamped in the tube adapter ready for tying. The Tube Fly Tool can also hold thicker, more conventional metal tubes, in copper, brass or aluminium, up to 3mm in diameter, secured in the same way.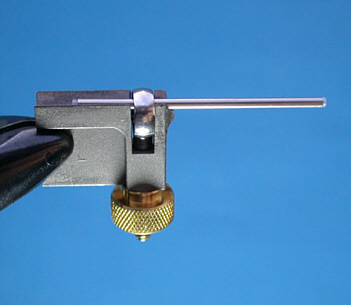 The HMH Tube Fly tying tool can hold short tubes, too. Below we see a 10mm long Needle Tube secured and ready for tying.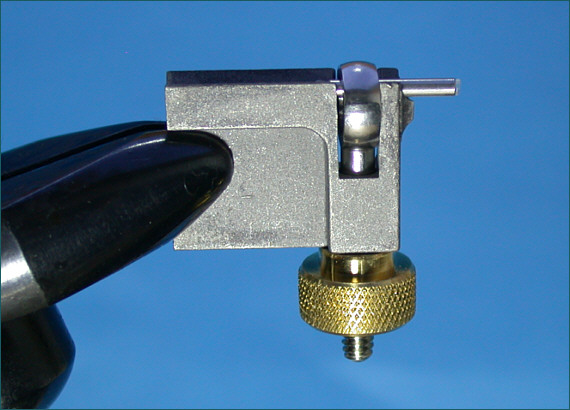 How to access the rear of the tube for dressing
In order to allow more access and room to dress the body of very short fly tying tubes, say less than 10mm in length, a pin or sewing needle of suitable diameter may be used to help secure the tube, as shown below. If using this method (which I would only recommend for very short tubes of 10 mm or less), care should be taken not to damage the tube's plastic liner, either by using too thick a needle or by clamping the liner in the securing ring. The method I use is as follows:
1. First insert the needle or pin into the tube. The needle/pin diameter should be approximately equal to the internal diameter of the plastic tube liner. The needle diameter may be very slightly larger, as it need only be inserted a few millimetres into the tube, but not so large that it damages the plastic tube liner when inserted.
2. Loosen the clamping ring just sufficiently to allow the needle or pin to be inserted into the tube fly tool from the front end (the right hand side in the photograph below).
3. Pushing the ring downwards with the left forefinger, butt the tube liner firmly against the side of the clamping ring and tighten the clamp screw to secure the needle, being careful not to clamp any part of the tube liner inside the ring.
For use with Gray's Needle Tubes, I would recommend sewing needles in size 8 or 9 which have a diameter of 0.61mm.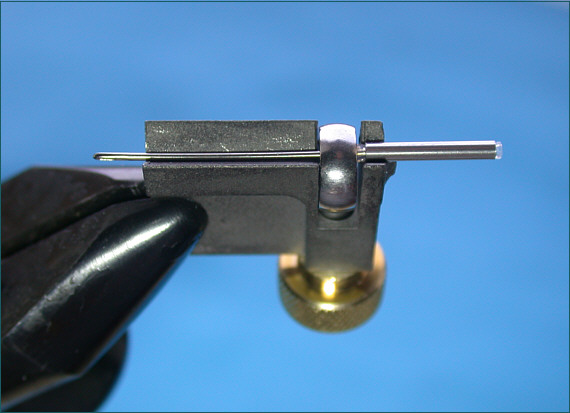 Dressing Plastic Tubes
With the aid of either of the two longer pins supplied for the purpose, plastic tubes of varying diameter may also be held in the HMH tube adapter , as shown below.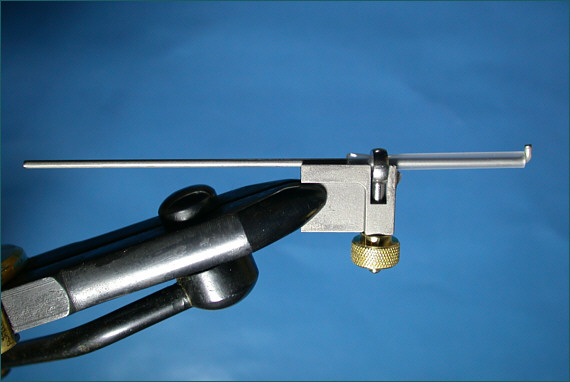 Examples of Needle Tube Flies dressed on 15mm long needle tubes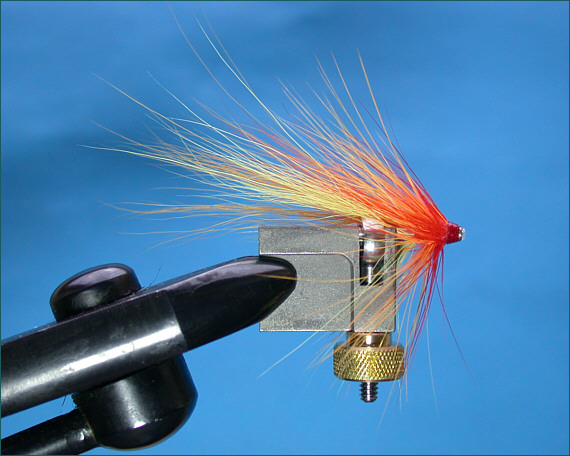 More from Grays of Kilsyth
Illustrated below are some of the needle tubes and tube flies; trout, salmon and sea trout flies; spinheads; fly tying accessories, some of them unique and available online only from Grays of Kilsyth, e.g. our ultra-slim stainless steel fly tying Needle Tubes and Needle Tube Flies.
Gray's Needle Tubes

Fine stainless steel fly tying tubes in a range of lengths with diameters as low as 1.5 mm

HMH Tube Fly Adaptor

The superb HMH Tube Fly Adapter is now available in our online shop at £39.99 with four free sample Needle Tubes.

Sea Trout Needle Tube Flies

A boxed selection of one dozen sea trout needle tube flies in 25mm and 35 mm lengths.

Scottish Shrimp Salmon Tube Flies

A selection of Scottish Shrimp fly patterns dressed on 10mm Grays Needle Tubes.

Spey Shrimp Needle Tube Flies

One dozen Spey Shrimp Tube flies dress on 1.8mm diameter needle tubes.

Minitube Salmon Flies

A selection of twelve salmon minitube flies dressed on 10mm long needle tubes.

Wee Monkey Needle Tube Flies

A selection of 12 Wee Monkey Salmon Tube Flies in a range of popular colours.

Blackback Salmon Needle Tubes

A box of ten Blackback Salmon needle tube flies

Traditional Scottish Doubles

A boxed selection of twenty famous traditional salmon doubles from Fulling Mill.

Spinheads

The Spinhead is an entirely new spinning device, a kind of fly spoon, designed and developed by Grays of Kilsyth primarily for the salmon fly fisherman who prefers the fly rod to the spinning rod.

Sea Trout Fly Singles

A box of forty sea trout single flies in sizes 10 and 8.

Trout Wet Flies

A boxed selection of forty famous traditional Scottish wet flies for loch and river.

Trout Dry Flies

A box of forty famous British Dry Flies in a variety of sizes.

All of the above needle tubes, flies, fly tying and related accessories are available from Grays of Kilsyth online with free UK shipping on orders over £60

Quick Product Links
Our Needle Tubes and boxed selections of trout, sea trout and salmon flies are available in our online fly shop with free UK delivery on all orders over £60.
All online payments are processed by the trusted Worldpay payment system, the safest way to shop on the internet. You can be sure that your personal and credit card details will remain strictly confidential and secure. We normally dispatch all orders within 24 hours of receipt of your order, by first class post within the UK (which often means next day delivery for orders placed early in the day) and by airmail to international destinations.
Read comments from our customers