Scottish Salmon Flies
Classic Scottish Salmon Fly Selection
A boxed selection of Twenty Scottish Salmon Flies tied on high quality Fulling Mill or Partridge double hooks and presented in a durable and practical aluminium fly box. Each Classic Salmon Fly selection has been chosen to give a good range of patterns in terms of colour and style, mainly in the most practical sizes of 10 and 8, for use throughout late spring, summer and autumn.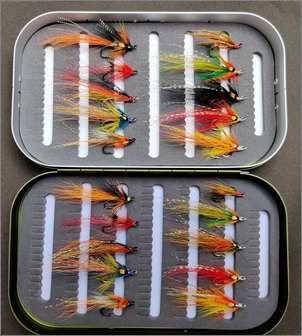 Boxed Selection of 20 Scottish Salmon Flies
on double hooks in aluminium Fly Box
Price £59.99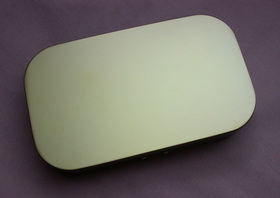 Available online in all major currencies.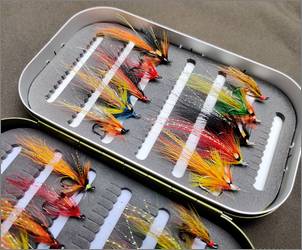 This boxed selection of Salmon Flies, in sizes 10 to 6, is a blend of the old and the new in Scottish salmon fly fishing. Old favourites like the General Practitioner, Green Highlander, Willie Gunn, Stoat's Tail and Munro's Killer, or their variants in the modern style, claim their well deserved place in the fly box alongside the new breed of modern shrimp patterns like the Cascade and Ally's Shrimp, Flamethrowers and others which have proven so effective in recent seasons.
A Mix of Traditional and Modern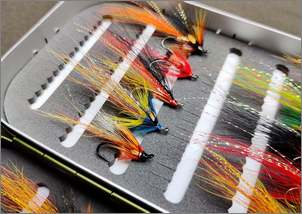 Each Salmon Fly selection offers practical variety for late Spring, Summer and Autumn salmon fishing. The smaller, darker patterns will, in general, be of most use in low, clear or warm water conditions while the larger, brighter patterns will come into their own in high, cold or coloured water. Now available in our ONLINE FLY SHOP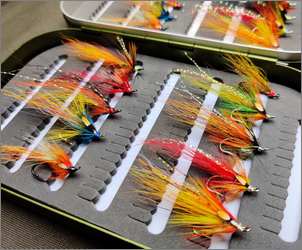 Note: Patterns included in the selection may vary from those shown, depending on availability.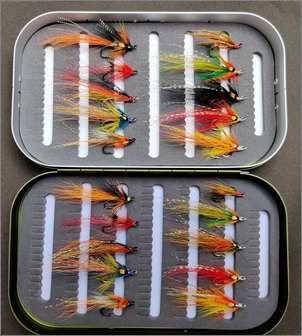 More from Grays of Kilsyth
Illustrated below are some of the needle tubes and tube flies; trout, salmon and sea trout flies; spinheads; fly tying accessories, some of them unique and available online only from Grays of Kilsyth, e.g. our ultra-slim stainless steel fly tying Needle Tubes and Needle Tube Flies.
Gray's Needle Tubes

Fine stainless steel fly tying tubes in a range of lengths with diameters as low as 1.5 mm

HMH Tube Fly Adaptor

The superb HMH Tube Fly Adapter is now available in our online shop at £39.99 with four free sample Needle Tubes.

Sea Trout Needle Tube Flies

A boxed selection of one dozen sea trout needle tube flies in 25mm and 35 mm lengths.

Scottish Shrimp Salmon Tube Flies

A selection of Scottish Shrimp fly patterns dressed on 10mm Grays Needle Tubes.

Spey Shrimp Needle Tube Flies

One dozen Spey Shrimp Tube flies dress on 1.8mm diameter needle tubes.

Minitube Salmon Flies

A selection of twelve salmon minitube flies dressed on 10mm long needle tubes.

Wee Monkey Needle Tube Flies

A selection of 12 Wee Monkey Salmon Tube Flies in a range of popular colours.

Blackback Salmon Needle Tubes

A box of ten Blackback Salmon needle tube flies

Traditional Scottish Doubles

A boxed selection of twenty famous traditional salmon doubles from Fulling Mill.

Spinheads

The Spinhead is an entirely new spinning device, a kind of fly spoon, designed and developed by Grays of Kilsyth primarily for the salmon fly fisherman who prefers the fly rod to the spinning rod.

Sea Trout Fly Singles

A box of forty sea trout single flies in sizes 10 and 8.

Trout Wet Flies

A boxed selection of forty famous traditional Scottish wet flies for loch and river.

Trout Dry Flies

A box of forty famous British Dry Flies in a variety of sizes.

All of the above needle tubes, flies, fly tying and related accessories are available from Grays of Kilsyth online with free UK shipping on orders over £60