Sea Trout Flies
Boxed selection of 40 traditional sea trout flies
A boxed selection of 40 popular British sea trout flies suitable for day and night sea trout fly fishing on British seatrout (sewin) rivers and lochs. This fly selection comprises forty renowned sea trout patterns, many originating in Scotland. Here are just a few of them, with a full illustrated list of patterns below ...
Boxed Sea Trout Fly Selection
A boxed selection of Forty Sea Trout Flies from a well established Scottish supplier, tied on single Redditch made hooks to the traditional patterns and of excellent quality.
Now available in our ONLINE FLY SHOP
Price £37.99 Sea Trout fly selection in plastic fly box
Each selection of forty Sea Trout Flies has been chosen to give a good range of patterns in terms of colour and style, in the most practical sizes of 10 and 8, for use by day and night on river and loch.
Each sea trout fly selection is presented in a superb waterproof plastic fly box.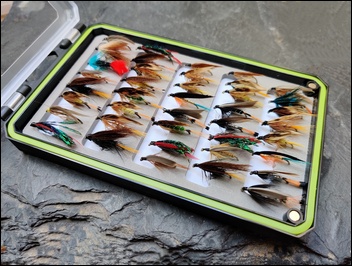 £37.99 with free UK shipping
Each set of forty sea trout flies, in sizes 10 and 8, has been selected from the following list of renowned patterns to provide practical variety for day and night sea trout fishing. In river fishing, the smaller patterns will, in general, be of most use in the early part of the night or in low, clear or warm water conditions while the larger patterns will come into their own in high, cold or coloured water or when fishing a deep pool late on a summer night. On the loch, a big wave may require a big fly, though we might well bear in mind that sea trout fly selection is far from an exact science.
In addition, a boxed selection of Sea Trout Needle Tube Flies is now available in our online shop. When a longer, yet light and slim, lure is required - the needle tube fly selection is the perfect complement to the box of sea trout singles.
See : Sea Trout Needle Tube Flies
Sea Trout Fly Selection

Introduced, under its old name, "Lady of the Lake", around 1860, the Alexandra was later re-named in honour of Princess Alexandra. Some doubt remains over its creator. Some say W.G. Turle of Newton Stacey, Stockbridge. Others, that it was devised by Dr John Brunton, a well-known member of the Gresham Fishing Society and inventor of Brunton's Fancy. So successful a fly was it that it is reputed to have been banned on some waters. Still a favourite with many sea trout men.

The Dark Mackerel was first introduced, as a sea trout fly, by Messrs John Dickson, of Frederick Street, Edinburgh, dressed on Martin outpoint hooks in sizes 8 and 6. It is a most useful fly, both at night and, in the daytime, for slightly dark, peaty waters. It also serves as a useful bob fly on the loch. A good all rounder.

Derived from the Stoat's Tail salmon fly, this silver-bodied version, the Silver Stoat, has become one of the most popular of all sea trout night flies in use today throughout the British Isles. It is fished on floating and sinking lines. It can be tied on singles, doubles or trebles and as tube-flies, Waddingtons, snakes or needles. In the larger sizes, the hair from a squirrel's tail, dyed black, often replaces the hair of the stoat. The plain black hackle may give way to brighter colours of red, orange, yellow or blue, each fisherman with his preferred variant. All are successful. A truly great sea trout fly.

Generally attributed to William Murdoch, a celebrated Aberdeen fisherman, the Mallard and Claret is probably the oldest of the Mallard series of flies. In the words of no less an authority than Courtney Williams, writing in 1948, "For a general fly for any month of the year in fast rivers, for lake fishing or for sea trout, there can be few more universally popular flies. For sea trout, the Mallard and Claret is probably the most popular of all wet patterns, whether fished in the day or after dark."

Dating from the turn of the century and adapted from the teal and red by Peter Ross of Killin on Loch Tay, the Peter Ross is one of the most popular loch flies ever devised. A good tail fly. Also an extremely popular and effective sea trout fly on loch and river.

Devised in the nineteenth century by H. Cholmondeley Pennell, the Black Pennell is particularly popular in the remoter waters of the Highlands. Commonly fished as a bob fly, it is especially good early in the fishing season when black midges are hatching. Effective, too, for loch and river sea trout.

Probably the best of the Woodcock series of trout flies. Like the Pheasant and Yellow, the Woodcock and Yellow has a fine reputation among Scottish sea trout fishers.

See the full sea trout fly selection below (note that the specific patterns included in the selection may vary from time to time, depending on stock availability)
Sea Trout Flies
All sea trout flies in this selection are supplied by the old and well established Scottish firm of Napier and Craig, suppliers of quality trout and salmon flies to the Scottish tackle trade since 1880.
More from Grays of Kilsyth
Illustrated below are some of the needle tubes and tube flies; trout, salmon and sea trout flies; spinheads; fly tying accessories, some of them unique and available online only from Grays of Kilsyth, e.g. our ultra-slim stainless steel fly tying Needle Tubes and Needle Tube Flies.
Gray's Needle Tubes

Fine stainless steel fly tying tubes in a range of lengths with diameters as low as 1.5 mm

HMH Tube Fly Adaptor

The superb HMH Tube Fly Adapter is now available in our online shop at £39.99 with four free sample Needle Tubes.

Sea Trout Needle Tube Flies

A boxed selection of one dozen sea trout needle tube flies in 25mm and 35 mm lengths.

Scottish Shrimp Salmon Tube Flies

A selection of Scottish Shrimp fly patterns dressed on 10mm Grays Needle Tubes.

Spey Shrimp Needle Tube Flies

One dozen Spey Shrimp Tube flies dress on 1.8mm diameter needle tubes.

Minitube Salmon Flies

A selection of twelve salmon minitube flies dressed on 10mm long needle tubes.

Wee Monkey Needle Tube Flies

A selection of 12 Wee Monkey Salmon Tube Flies in a range of popular colours.

Blackback Salmon Needle Tubes

A box of ten Blackback Salmon needle tube flies

Traditional Scottish Doubles

A boxed selection of twenty famous traditional salmon doubles from Fulling Mill.

Spinheads

The Spinhead is an entirely new spinning device, a kind of fly spoon, designed and developed by Grays of Kilsyth primarily for the salmon fly fisherman who prefers the fly rod to the spinning rod.

Sea Trout Fly Singles

A box of forty sea trout single flies in sizes 10 and 8.

Trout Wet Flies

A boxed selection of forty famous traditional Scottish wet flies for loch and river.

Trout Dry Flies

A box of forty famous British Dry Flies in a variety of sizes.

All of the above needle tubes, flies, fly tying and related accessories are available from Grays of Kilsyth online with free UK shipping on orders over £60

Quick Product Links
Our Needle Tubes and boxed selections of trout, sea trout and salmon flies are available in our online fly shop with free UK delivery on all orders over £60.
All online payments are processed by the trusted Worldpay payment system, the safest way to shop on the internet. You can be sure that your personal and credit card details will remain strictly confidential and secure. We normally dispatch all orders within 24 hours of receipt of your order, by first class post within the UK (which often means next day delivery for orders placed early in the day) and by airmail to international destinations.
Read comments from our customers