DISCONTINUED
Trout Lures & Streamers
A selection of popular traditional British trout fly lures
30 Trout Lures & Streamers
Boxed Trout Lure Selection £29.99
A boxed selection of Thirty Trout Lures and Streamers from a well established Scottish supplier, tied in popular UK sizes on quality hooks.
Now available in our ONLINE FLY SHOP
Each Trout Lure selection has been chosen to give a good range of patterns in terms of representation, in the most practical and popular UK sizes. The lures are dressed mainly on size 10 long shank hooks, with a few on standard length shanks or in sizes 12 or 8.
Each selection of trout lures and streamers is presented in a durable and practical plastic fly box.
This selection of popular British trout lures and streamers. These lures are most commonly used for rainbow trout and brown trout in river or lake but may also be used for other predatory species. Each boxed set of thirty lures will be selected from the list below. Click on the names or photographs below to see a detailed image of each trout lure and streamer in the selection.
Trout Lure Selection
Price £29.99 30 Trout Lures in plastic fly box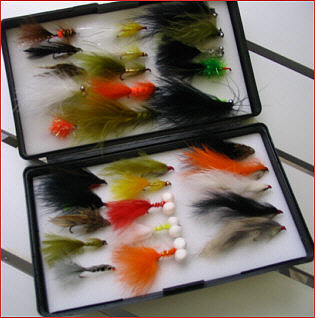 All trout lures in this selection are supplied by an old and well established Scottish firm, suppliers of quality trout and salmon flies to the Scottish tackle trade since 1880.
Please note that the flies included in the boxed selection may vary slightly from time to time according to availability, and occasionally alternative patterns may be substituted for those shown, although we will make every effort to include the flies listed below.
Trout Lures
Trout Lure Selection
Click on images to enlarge

Click on images to enlarge

A

ce of Spades

Black

Cat - Orange

Black

Cat

B

lack Marabou Muddler

Bl

ack Marabou

Bl

ob

Brown Toad

C

ats Whisker

Damsel Goldhead

Dancer Goldhead

Epoxy Fish

Gold Muddler

Humungus

Nomad

Olive Cats Whisker

Olive

Dancer

Olive Woolly Bugger

Olive Zonker

Orange Woolly Bugger

Silver

Muddler

White Booby

Orange Booby

Red Booby

Viva

Yellow Dancer

Yellow Dancer Goldhead

Black Zonker

Orange Zonker

Zonker

White Zonker
More from Grays of Kilsyth
Illustrated below are some of the needle tubes and tube flies; trout, salmon and sea trout flies; spinheads; fly tying accessories, some of them unique and available online only from Grays of Kilsyth, e.g. our ultra-slim stainless steel fly tying Needle Tubes and Needle Tube Flies.
Gray's Needle Tubes

Fine stainless steel fly tying tubes in a range of lengths with diameters as low as 1.5 mm

HMH Tube Fly Adaptor

The superb HMH Tube Fly Adapter is now available in our online shop at £24.95 with four free sample Needle Tubes.

Sea Trout Needle Tube Flies

A boxed selection of one dozen sea trout needle tube flies in 25mm and 35 mm lengths.

Scottish Shrimp Salmon Tube Flies

A selection of Scottish Shrimp fly patterns dressed on 10mm Grays Needle Tubes.

Spey Shrimp Needle Tube Flies

One dozen Spey Shrimp Tube flies dress on 1.8mm diameter needle tubes.

Minitube Salmon Flies

A selection of twelve salmon minitube flies dressed on 10mm long needle tubes.

Wee Monkey Needle Tube Flies

A selection of 12 Wee Monkey Salmon Tube Flies in a range of popular colours.

Irish Shrimp Salmon Tube Flies

A boxed selection of Irish Shrimp salmon patterns dressed on Gras Needle Tubes.

Blackback Salmon Needle Tubes

A box of ten Blackback Salmon needle tube flies

Ally's Shrimps and Cascades

A selection of twenty Ally's Shrimps and Cascade Salmon Doubles

Sea Trout Fly Singles

A box of forty sea trout single flies in sizes 10 and 8.

Traditional Scottish Doubles

A boxed selection of twenty famous traditional salmon doubles from Fulling Mill.

Trout Wet Flies

A boxed selection of forty famous traditional Scottish wet flies for loch and river.

Trout Lures

A selection of trout lures and streamers, popular for rainbow trout fisheries.

Trout Nymphs

A boxed selection of forty trout nymphs for stillwater or stream.

Trout Dry Flies

A box of forty famous British Dry Flies in a variety of sizes.

Tube Fly Extension Tubing

PVC and silicone tube fly extension tubing an a range of diameters and colours.

Spinheads

The Spinhead is an entirely new spinning device, a kind of fly spoon, designed and developed by Grays of Kilsyth primarily for the salmon fly fisherman who prefers the fly rod to the spinning rod.

All of the above needle tubes, flies, fly tying and related accessories are available from Grays of Kilsyth online
Quick Product Links
Our Needle Tubes and boxed selections of trout, sea trout and salmon flies are available in our online fly shop with free UK delivery on all orders over £60.
All online payments are processed by the trusted Worldpay payment system, the safest way to shop on the internet. You can be sure that your personal and credit card details will remain strictly confidential and secure. We normally dispatch all orders within 24 hours of receipt of your order, by first class post within the UK (which often means next day delivery for orders placed early in the day) and by airmail to international destinations.
Read comments from our customers