The Fly Box
NEW FLY FISHING FLIES FOR TROUT AND SALMON
For the fisherman/tyer who likes to try something new, I will list here fly fishing flies which I have found worth trying for trout and salmon as a change from the traditional favourites.

To begin, I will describe the origins and development of the NEEDLE FLY, which I devised for late night sea trout fishing on the River Earn in Perthshire. Not only did it catch sea trout (sewin), it also accounted for a few salmon, trout and even grayling. It may be worth considering as a fly fishing lure for other predatory species.

For those who would like to make their own Needle Flies, but have difficulty in finding some of the components, such as suitable PVC tubing, a

NEEDLE FLY KIT is now available in our online shop.

***** NEW *****

fine stainless steel fly tying tubes
The Needle Fly
The man who fishes for sea trout, day and night throughout the season, on rivers large and small, will carry a good range of sizes and styles of fly. In low water or in the early part of the night, he may do best with flies no larger than a size six. At other times, perhaps in high water or when fishing a deep pool late at night when the river has gone quiet, he will often resort to something larger, or more specifically, longer.

Small flies, say up to a size six, are probably best tied on single hooks. But what is the best design for the longer fly or lure, of between one and three inches in length?

The Tube fly in various materials, the Waddington, Falkus's sunk lure, the Welsh Marchog with flying treble along with assorted terrors and demons all have their devotees and are undoubtedly effective. However, each, though ingenious in its own way, has its disadvantages.

All of the above, however, have their disadvantages, so I set about trying to devise a lure which might overcome their shortcomings

The result, after much experimentation, was the Needle Fly.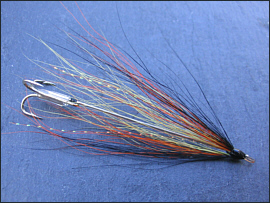 The Needle Fly
Needle: No. 9 long darning needle
Wing: black over orange over yellow Fox squirrel tail with a few strands of Krystal Flash
see: Tying the Needle Fly
For more information about Needle Flies, see Fishing Articles
Needle Types and Sizes
TYPE
SIZE
DIAMETER
LENGTH
BETWEEN
6
0.027 inches
0.69 mms
1¼ inches
SHARP
6
0.027 inches
0.69 mms
1½ inches
LONG DARNER
9
0.024 inches
0.61 mms
2 inches
LONG DARNER
7
0.027 inches
0.69 mms
2¼ inches
I have listed only a few of the most useful sizes. However, almost any needle can be used, provided it is matched to a treble hook and PVC sleeve of appropriate size.
So, just as with hooks, we could describe the size of a needle by a number and a shank length. For example, a size 7 Between would be a "size 7 Short shank", a size 7 Sharp would be a "size 7 standard shank" and a size 7 Long Darner would be a "size 7 long shank" and, just as in hook sizes, within each range, the lower the number, the bigger the fly.
But all this seems too complicated. Much easier simply to describe our needle flies by length. For example, a 1 inch, 1½ inch or 2 inch needle. I tend to use Betweens for the shorter lengths, Sharps for the intermediate lengths and Long Darners for the longest lures.
NEW - For those who would like to make their own Needle Flies but have difficulty in obtaining suitable PVC tubing, a
NEEDLE FLY KIT
is now available in our online shop
Needle Flies are conveniently stored in a foam lined fly box, as shown below.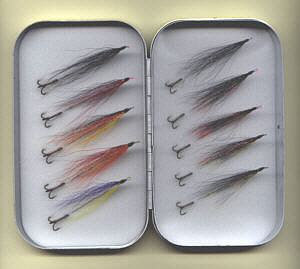 The Ginger Pearl
A good night time sea trout fly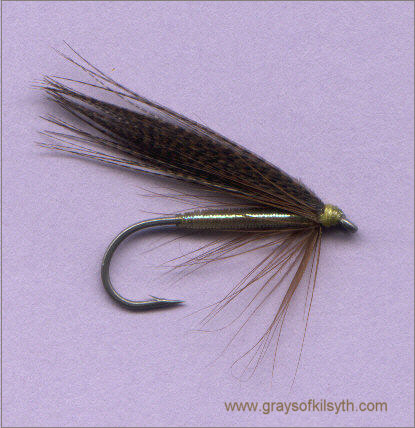 THE GINGER PEARL
Dressing
Hook: Singles in sizes 10 to 4
Thread: Yellow
Body: Pearl tinsel over yellow thread overwound with touching turns of fine light green monofilament nylon (e.g. Drennan sub surface green 4 lbs B.S.)
Hackle: Shiny ginger hen
Wing: Squirrel hair or mallard
Variants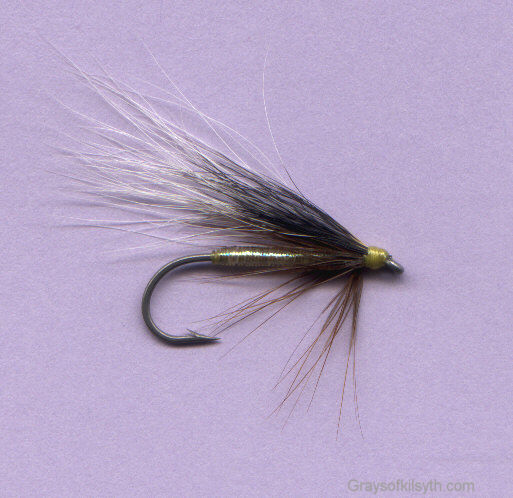 Ginger Pearl (Palmered)
Needle Flies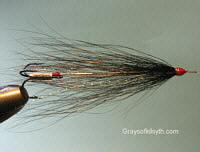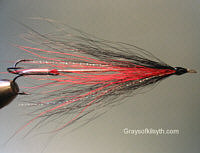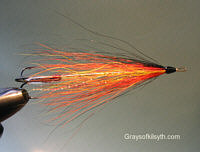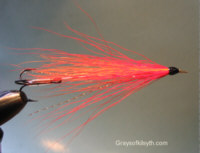 Needle Surface Lure
The Needle may also be dressed as a surface wake lure. This is simply done by pushing a needle through the centre of a cylinder of ethafoam. A hackle may be tied in first if desired.
Details of the needle fly were first published in the article, "Needles for Sewin", Trout & Salmon magazine, September 1999
The Magus
I first used this fly on the River Endrick in 1989 where it was effective for both salmon and sea trout. It has since taken fish on the Dee, Earn, Teith, Alness and Allan.
The Magus
Dressing
Hook: Singles, doubles and trebles in sizes 12 to 6
Tail: Squirrel tail dyed magenta or light claret
Body: Rear half silver, front half black floss
Rib: Oval silver
Body hackle: Soft, shiny hackle dyed magenta or light claret
Front hackle: Soft, shiny black hackle with jungle cock under.
Fluorescent magenta floss is a good substitute for the jungle cock, as in the examples below.
Magus Variants
Quick Product Links
Our Needle Tubes and boxed selections of trout, sea trout and salmon flies are available in our online fly shop with free worldwide delivery.
All online payments are processed by the trusted Worldpay payment system, the safest way to shop on the internet. You can be sure that your personal and credit card details will remain strictly confidential and secure. We normally dispatch all orders within 24 hours of receipt of your order, by first class post within the UK (which often means next day delivery for orders placed early in the day) and by airmail to international destinations (note: orders of less than £20 will be sent by international economy mail).