Description
A boxed selection of Forty Scottish Loch Trout Flies from a well established Scottish supplier, tied in a range of sizes to the traditional patterns on Redditch hooks.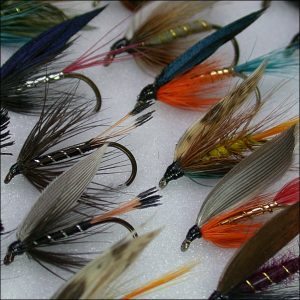 Each Trout Fly selection has been chosen to give a good range of patterns in terms of colour and style, in the most practical sizes of 14, 12 and 10, for use throughout the UK fishing season from a drifting boat or from loch shore.
Each set of forty Scottish loch trout flies, in sizes 14, 12 and 10, has been selected from the many renowned UK patterns to provide practical variety, and will include bob flies like the Zulu or Soldier Palmer, representative patterns such as the Greenwell's Glory, March Brown or Woodcock and Yellow and flashy attractors in the form of Peter Ross, Kingfisher Butcher or Dunkeld.
Note: patterns included in the selection may vary from those illustrated, depending on availability.
Each selection of trout flies is presented in a durable and practical waterproof plastic fly box.
For more information and photographs see Trout Loch Flies