Description
A boxed selection of salmon flies, tied on high quality double hooks in the long tailed shrimp style in sizes 6, 8, 10 and 12. These patterns are among the most popular and effective of our modern salmon flies. They include the famous patterns devised by Ally Gowans – Ally's Shrimp and the Cascade Shrimp in silver and gold. Also included are the Magus and Black Boar, which have proven their worth in recent seasons.
Each fly selection offers practical variety for use throughout the salmon fishing season, in a good range of colours and sizes.  The smaller, darker patterns will, in general, be of most use in low, clear or warm water conditions while the larger, brighter patterns will come into their own in high, cold or coloured water.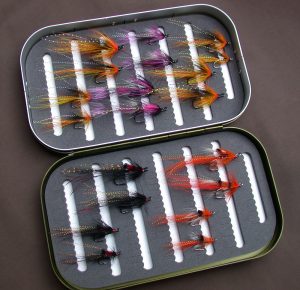 Ally's Shrimp and Cascade Salmon Fly Selection
All five patterns are dressed on Fulling Mill black nickel double hooks or Partridge Salar doubles in four sizes – 6, 8, 10 and 12 – to create a salmon fly selection which will meet most conditions of water and weather likely to be encountered on salmon rivers from late Spring to Autumn.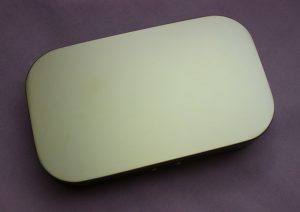 Traditional style Aluminium Fly Box
Each selection of Ally's Shrimps/Cascades is presented in a traditional style aluminium fly box.
For more information and photographs see Ally's Shrimps and Cascades